PPPPPP
Magnus Pålsson
Length
30:31
"...if you're waiting for something good, you were waiting for PPPPPP."
―Verdegrand, PPPPPPowerup!
PPPPPP is the album for the game VVVVVV composed by Magnus "Souleye" Pålsson. It includes thirteen songs and totals at 30:31 in length. The soundtrack was released alongside VVVVVV and sold as a digital download or CD on Pålsson's website, in addition to his site on Bandcamp.
The remix album was released under the name PPPPPPowerup. It feature remixes of the original songs by various artists including Verdegrand, Gryzor87, and Professor Kliq. The helmets on the cover were modeled into notes for Souleye's pack for the game Pulsen along with 11 remixes of various Souleye songs and one other noteskin set.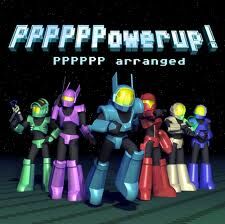 In 2012, five songs from PPPPPP, plus Piercing the Sky (part of VVVVVV 2.0), were remixed and released as part of the Pulsen:Souleye pack. All the songs were remix as to be good for a dance game. These songs are available as part of Souleye's album "Adventure". Six other song and noteskins modeled after the heads of the original characters and helmets from the powerup album were also included.
Terry Cavanagh first approached Pålsson to compose VVVVVV after playing Space Phallus, an indie game by Charlie's Games, which featured a song by him. Pålsson wrote on the Distractionware blog that, upon playing Cavanagh's previous games, he was "amazed at the depth that came with the games, even though they were small and short." In writing the music for VVVVVV, Pålsson aimed to make "uptempo happy songs that would ingrain themselves into your minds whether you want to or not, hopefully so much so that you'd go humming on them when not playing, and making you want to come back to the game even more. The complete soundtrack, titled PPPPPP, was released alongside VVVVVV and is sold as a music download or CD on Pålsson's personal website. On June 12, 2014, Pålsson released a power metal version of the soundtrack titled MMMMMM which was arranged and performed by guitarist Jules Conroy. The album contains a mod file to replace the in-game music with the metal tracks.
The only song in "PPPPPP" that has any distinguishable lyrics is a bonus track called "Waiting For VVVVVV," which had explicit content in it.
The cover for "PPPPPP" is an upside-down and pixelated play on the cover for The Beatles' album "Abbey Road."
Community content is available under
CC-BY-SA
unless otherwise noted.